Consumer Information
What color is it?: As shown above most colors will be variation of yellow or white, with blue and pink also possible. There is also a purple color that is sometimes confused with amethyst.
What is the story behind this gemstone?: This gemstone is rarely available in jewelry stores. Although it is quite popular with collectors, and is in demand by consumers who want to wear something to the party that no one else will have on.
Can I wear it everyday?: For earrings and necklaces. It is a bit soft to wear for rings.
Is it expensive?: Normally scapolite will run in the same price range as a nice amethyst.
Is it a birthstone?: No.
What do I need to know before going shopping?: Color is everything. As you will note above, this stone has a rather large window that makes the stone appear clear or colorless through the top. This is not good. Look for a stone that will show nice intense coloring throughout the stone when observed from various angles.
---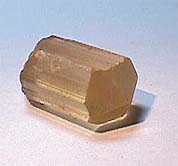 General Information
Source: Burma, Brazil, Tasmania
Chemical: Sodium calcium aluminum silicate (about a mile long for the chemical equation) Scapolite is actually a group of gemstones that will have variable properties....much like the garnet group.
Formation: Igneous rocks
Crystal System: Tetragonal
Unusual Properties: None