---
Consumer Information
What color is it?: Prehnite is a yellowish green to brownish yellow. (seen in the dark brown matrix above)
What is the story behind this gemstone?: Until recently this was a fairly rare gemstone. However, with recent finds in Australia and China it is now available through many gem dealers.
Can I wear it everyday?: Yes it is very long wearing and tough with a hardness of about 6.5.
Is it expensive?: Relatively inexpensive. About the same price as a nice piece of Lapis Lazuli in the finest quality.
Is it a birthstone?: No
What do I need to know before going shopping?: First, don't shop for prehnite on eBay. This is a rather rare gem material that is only now being found in the open markets. I found the above specimen at the Tucson show with the same people who supplied us with the sugilite specimen. For some reason their website is always reported to be down so I cannot provide you with a link.. But they are good people with some very nice specimens. If we can ever find a link for them I will certainly post it for you here.
---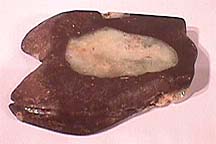 General Information
Prehnite in volcanic matrix shown above
Source: Australia, China, United States, France among others
Chemical: Ca2Al2(OH)2Si3O10 a calcium aluminum silicate
Formation: In volcanic rock formation
Crystal System: Orthorhombic but rarely seen as crystals
Unusual Properties: None