---
Source: USA and many others
Chemical: Cu2(CO)3(OH)2
Formation: Found in conjunction with copper deposits. Malachite is actually an oxidized form of copper.
Crystal System: Monoclinic. However, it usually occurs in a botryoidal form as you see above.
Unusual Properties: This gemstone is known for its swirling colors of light to dark green. It is cut en cabochon.
Wearability: Malachite is rather soft so expect it to show wear and tear. If setting or repairing in jewelry be careful of heat since a jeweler's torch can damage the stone.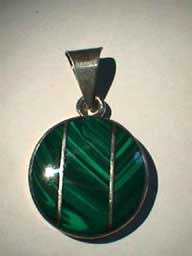 ---