---
Source: Westland, New Zealand the only known source. It is sometimes referred to in geological texts as Goodletite. However, the most common commercial name is ruby rock.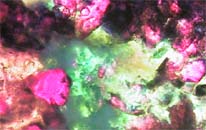 Chemical: A variety of interactive crystallizations consisting of corundum (ruby and sapphires), tourmalines, muscovite, chromite, and margarite. This is a rock formation unlike anything else on earth where these minerals form a conglomerate rock which contains crystallizations large enough to be viewed as individual formations within the rock itself, as shown in the photograph above.
Crystal System: None...or a lot of various types, depending on how you look at it.
Formation: Ultra basic igneous rocks.
Unusual Properties: As shown above, this rock is a very interesting formation of small, but distinct, crystals of the above named minerals that form in such a tight proximity as to create a rock formation from the conglomeration of the crystals. This is truly one of the most unique and beautiful gemstone materials that YourGemologist has seen. Mr. Commandeur, the owner of the mine itself, was kind enough to supply YourGemologist.com with samples of this material for use to produce this page.
To learn more about this interesting and unique gemstone contact the current owners of the mining production:
Gerry and Corrie Commandeur email: rubyrock@voyager.co.nz or click here to visit their website: RubyRock
© 2011 YourGemologist.com and Robert James FGA, GG. All Rights Reserved. No part of this website may be copied, duplicated, distributed or posted to another website without the expressed written consent of the copyright holder.
---